Tumoba
Visit them at www.tumoba.nl
Harvesters
Because of Tumoba's vast experience in building harvesting-equipment for various vegetables, we are also able to custom design your harvester!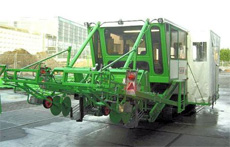 Parsnip
Our parsnip harvesters feature automatic steering and height adjustment, excellent working-conditions, and they are very product-friendly.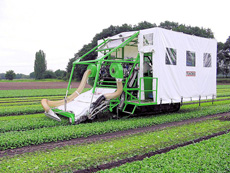 Baby Leaf
Our machines are standard fitted with:
Automatic steering by a sensor between the beds, electronic cutting-height adjustment with display, electric steering and speed control and tracks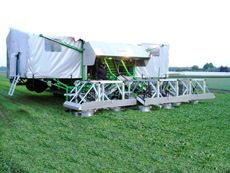 Spinach
Spinach harvesters are 7'5" wide, fitted with 2 Spimaro disk cutters and are combined with Tumoba's packing station on it's tracks. The machine also features a fully-automatic packing machine for spinach in trays developed by Tumoba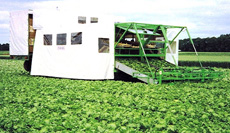 Lettuce
Harvest lettuce or andive by lifting the beds (and crops) to an easy working height. Tumoba can build a range of machines to lift one or more beds. Lifting 10 or 12 pallet trailers without soil-damage in wet conditions and fitting packing machinery are possible.
Sprouts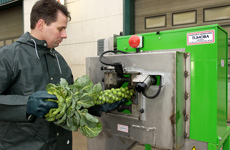 Static machines - The Tumoba ST1 is a static model with a single stripping head. Pre-cut stalks are first handfed through the opened stripping knives. The operator then releases the stalk and gripping wheels pull it through the knives. The buttons and leaves are stripped from the stalk and separated. The stalk passes through the machine and it deposited at the rear of the machine. A stalk chopper is available as an optional attachment, with your choice of electric or Hydraulic operation.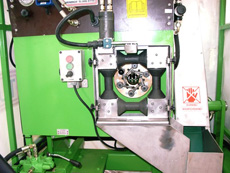 Trailed machines - The Tumoba TM1 (2&3) S are the smallest mobile harvesters in this product line. The machines consist of one, two or three stripping-units on a two wheeled chassis and driven by the tractor. The operation requires one person (or more) cutting stalks of sprouts and placing them on a table or belt.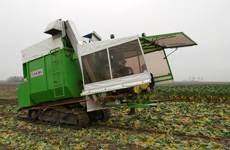 Self-propelled machines - The Tumoba SP2 (3&4) are harvesters designed to enable the larger sprout grower to obtain high output and minimize labor requirements, whilst protecting the condition of the soil, even under the most adverse conditions.